The Welfare team work with management, coaches and other staff members and volunteers towards the common goal of achieving and maintaining a positive, child-centered environment.
Your Welfare Team working to keep our gym safe and secure for all it's members
"I am one of the new Welfare Officers. Although I am not a gymnast or the parent of one, I have lots of experience supporting children of all ages as I am a teacher and have taught in both primary and secondary schools. I also previously worked for a disability charity in a recruitment and safeguarding role. Outside of work, I am very involved with Girlguiding and currently lead the national inclusion volunteer team as well as a local unit. I am passionate about welfare and making sure that children are safe and happy, and I am looking forward to getting to know the club members!"
"I've recently joined the Welfare Team here at Basingstoke Gymnastics Club and as a parent of an Aerobic gymnast, I know already what a fabulous club this is! I'm looking forward to engaging with gymnasts, coaches and parents to provide support across a wide range of welfare topics. In my professional life I work in the Software Industry, leading a team across Europe. Whilst this is very different to my role at the club, I'm a great listener and strongly believe that supporting individuals is super important."
"I have been a member of the welfare team for a couple of years. I am enthusiastic to ensure the safety and well being of the children at the Club. I am a parent of a Tumbling Gymnast at the club where we have been for 6 years. I also have a daughter who coaches TeamGym. I was a primary school teacher and now work in the technology industry as a Business Operations Manager. I am passionate about well being and lead the UK team of Mental Health first aiders in my organisation. I am on the board of trustees for a community centre and am keen to ensure an inclusive approach and assist to run a full social programme within the centre."
"I am an enthusiastic new member of the Welfare Team. My daughter is an aerobic gymnast who has been in the squad for 6 years, and as a result, I am very familiar with the Basingstoke Gymnastic Club. I love seeing her passion for the sport continue to grow, and how training in a safe and positive environment increases her experiences. I am pleased to be entrusted to be part of the Welfare Team, working alongside the hard-working coaches, children, parents and volunteers who contribute to making the club a success. I am currently studying level 2 of Understanding mental health in children and young people. I am motivated and committed to supporting the safeguarding and welfare of all children within the club."
"Having recently become an 'ex grassroots football coach' serving the Basingstoke community for over the past 12 year's, I decided that I wanted to offer my help and support in a new role, so when the Welfare opportunity came about, I jumped at the chance to join! Hoping to bring some of my knowledge of working with Children and welfare along with me. I'm also a parent of two Elite gymnasts within the Aerobics Squad and have been part of the BGC family since 2012, Not quite sure where I get my time from as I also sit on the clubs fundraising committee."
The Welfare team have developed up to date policies and procedures for Basingstoke Gymnastics Club. Click the links below to download your copy for review.
The Welfare Team are currently reviewing the Club's policies and procedures where they relate to the welfare and safeguarding of children, young people and vulnerable adults who attend the club. Please bear with us as we update these policies which will be available for members and the public to view on this page shortly.
If you believe a child is in imminent danger, please call the police on the emergency 999 telephone number.
If you would like to contact the Welfare Team about any issue relating to the welfare, safeguarding or protection of a child, young person or vulnerable adult, please email welfare@basingstokegym.co.uk.  The email address is constantly monitored and will be reviewed within 24 hours by a welfare officer.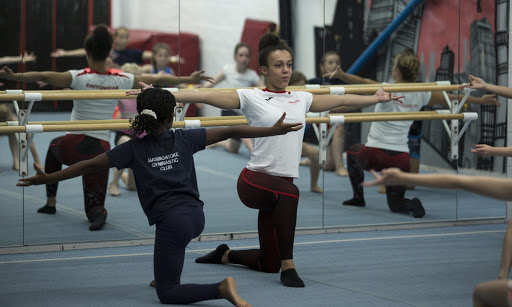 The CPSU (Child Protection in Sport) unit of the NSPCC has a helpline for concerns regarding bullying or abuse in gymnastics. 
Their number is 0800 056 0566.

If you would be interested in becoming a volunteer welfare officer at the club please take a look at our job description and email the welfare team for further information welfare@basingstokegym.co.uk
Basingstoke Gymnastics Club, Stephenson Rd, Basingstoke, RG21 6XR.
info@basingstokegym.co.uk
Registered Charity 1050805