 Basingstoke Gymnastics Club
Aerobic Gymnastics is perhaps the most dynamic and energetic of all the gymnastic disciplines. Finding its roots in the group fitness and aerobic classes of the late 80's. Immediately recognisable for its high energy and heart pounding routines set to lively 'up-tempo' music.
AEROBIC ELITE PERFORMANCE
The perfect sport for those who are looking for a great way to keep in shape, have a good ear for music and a willingness to take their cardio-vascular fitness to new levels, Aerobic Gymnastics is gaining a solid foot hold in the UK. Aerobic routines are not only great fun to train and compete but also to watch. The upbeat music constantly keeps the audience alert and involved with the gymnast, whose aim is to captivate with enthusiasm and dynamism.
We also compete throughout the year at club, regional, national and international competitions so there are lots of opportunities and experience for everyone! For further information please email zanna.woods@basingstokegym.co.uk
The basis of all aerobic routines lies in the performance and combination of seven basic aerobic movements involving both the arms and legs: March, Jog, Skip, Knee Lift, Kick, Jack and Lunge. Mastering these movements is often the focus of introductory aerobic gymnastics programmes.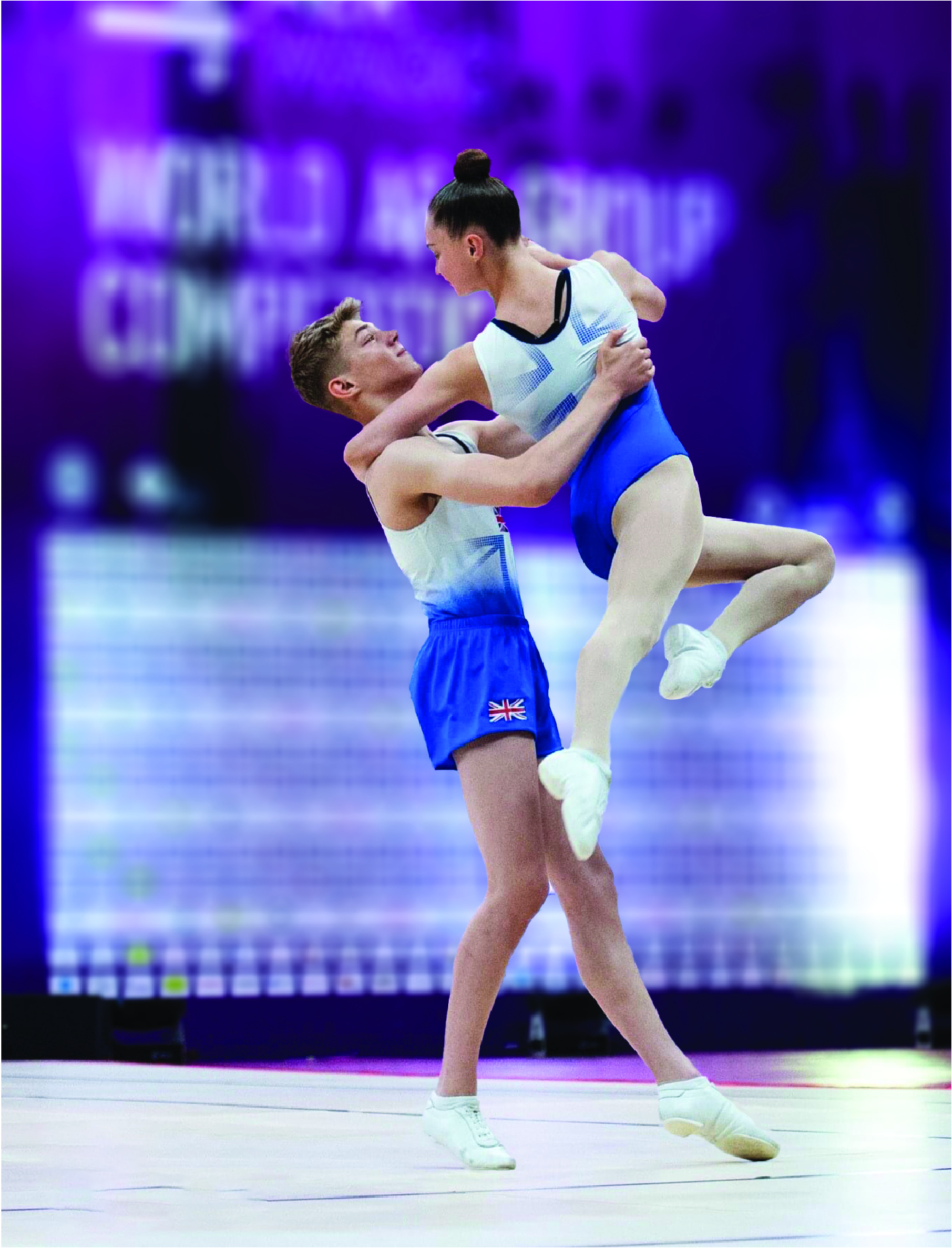 The first thing that blows away audiences watching Aerobic Gymnastics is the speed and cardio-vascular nature of the routine with traditional aerobic steps combined with acrobatic elements, jumps & leaps whilst demonstrating excellent flexibility.  The synchronisation, interactions, lifts and ever changing aerobic movement show in partnerships is always enjoyed by the audience. The routine will include various skills from the 4 element groups of dynamic strength, static strength, jumps/leaps and flexibility/balance.
As gymnasts improve their co-ordination and speed of movement they sequence together counts of continuous complex and high intensity movement patterns to 'up-tempo' music.
A winning routine will typically show clean and balanced movements with perfect technique.
If you've got energy to burn then Aerobic Gymnastics is the sport for you.