 Basingstoke Gymnastics Club
TeamGym has its roots in Scandinavia, where it has been a major gymnastics event for some 25 years, in the UK, it is still one of the newer gymnastic disciplines. TeamGym is a team discipline for clubs and consists of three sections: women, men and mixed teams. Teams should have a minimum of 6 gymnasts and a maximum of 12 gymnasts.
TEAMGYM ELITE PERFORMANCE
TeamGym competes on 4 different pieces, they all require, effective team work, excellent technique in the elements and spectacular acrobatic elements. TeamGym competitions generate an excellent spirit and atmosphere and is as attractive and exciting for spectators. TeamGym is ideal for enthusiastic, talented gymnasts who are looking to take their gymnastics further (without training the hours some other disciplines demand) and compete within the camaraderie of a team.
We currently offer between Level 6 – 2 Micro & Full Team for Mini (7 – 11 years), Primary (9 – 11 years) Youth (10-14 years) Junior (13 – 17 years) Teams.
We  compete throughout the year at club and regional and national competitions so there are lots of opportunities and experience for everyone! For further information please email katie.hayes@basingstokegym.co.uk  
One moment you're performing a hypnotic floor routine. The next, you're somersaulting down the runway. The pressure's on. But your mates are right there with you every step of the way.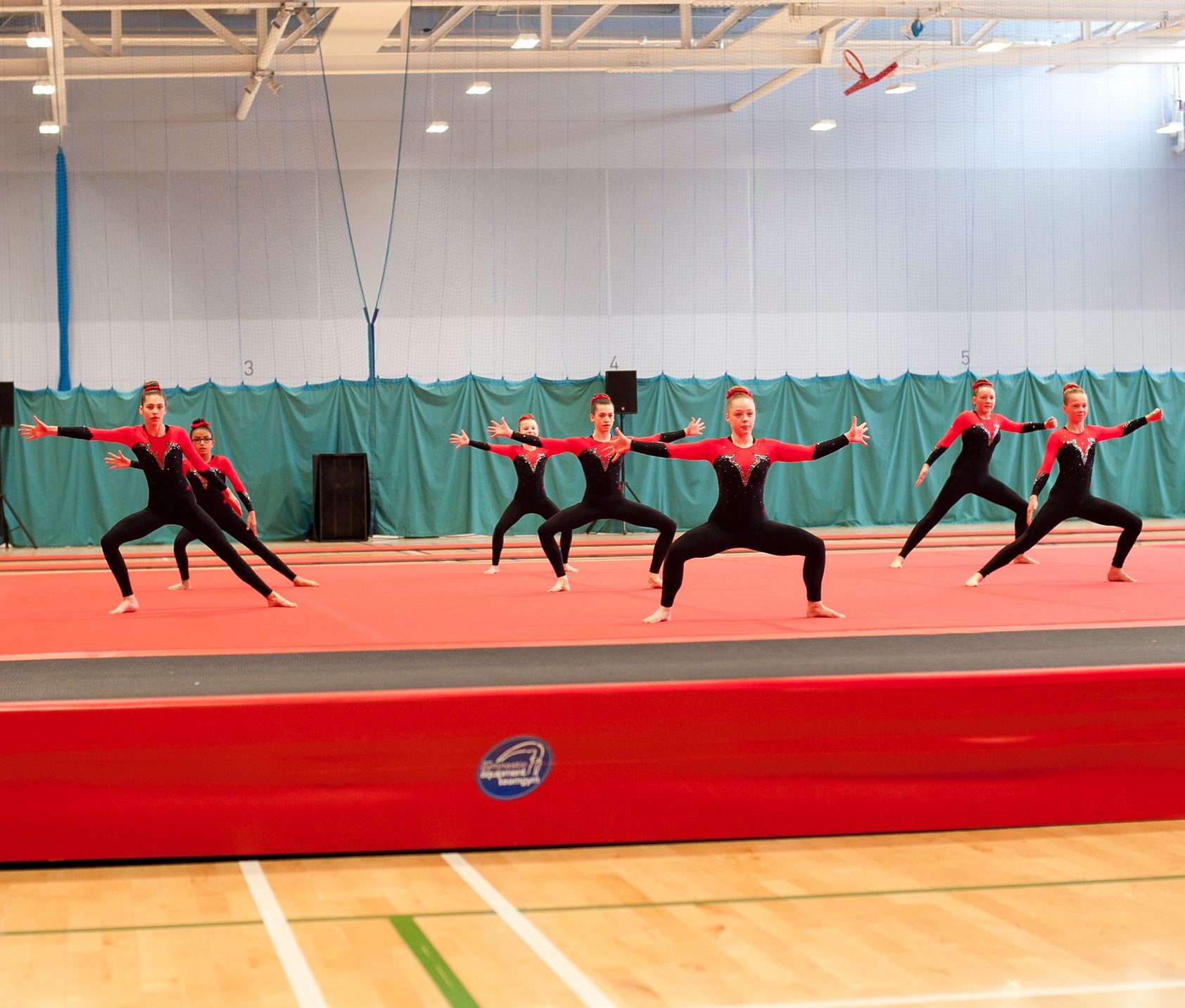 Floor 
All members of the Team take part in the floor program, composed of a mixture of dance, flexibility and skill. The routine has to be skillfully choreographed and the judges look out for changes in shape. There needs to be at least two spins, two jumps/leaps, two acrobatic elements, two balance/power elements, two section elements and one combination of elements. These section elements are bodywaves for women's teams, power elements for men's teams and lifts for mixed teams. Floor routines are performed to music.
Trampette Vault 
A trampette is a small square trampoline used in gymnastics. In TeamGym, the trampette is positioned at the end of a 25-meter-runway in front of a mat. The trampette is adjusted at an angle, tilted towards the gymnast, who approaches the trampette at a run. Part of the TeamGym trampette program is performed with a vaulting apparatus, which is positioned between the trampette and the mat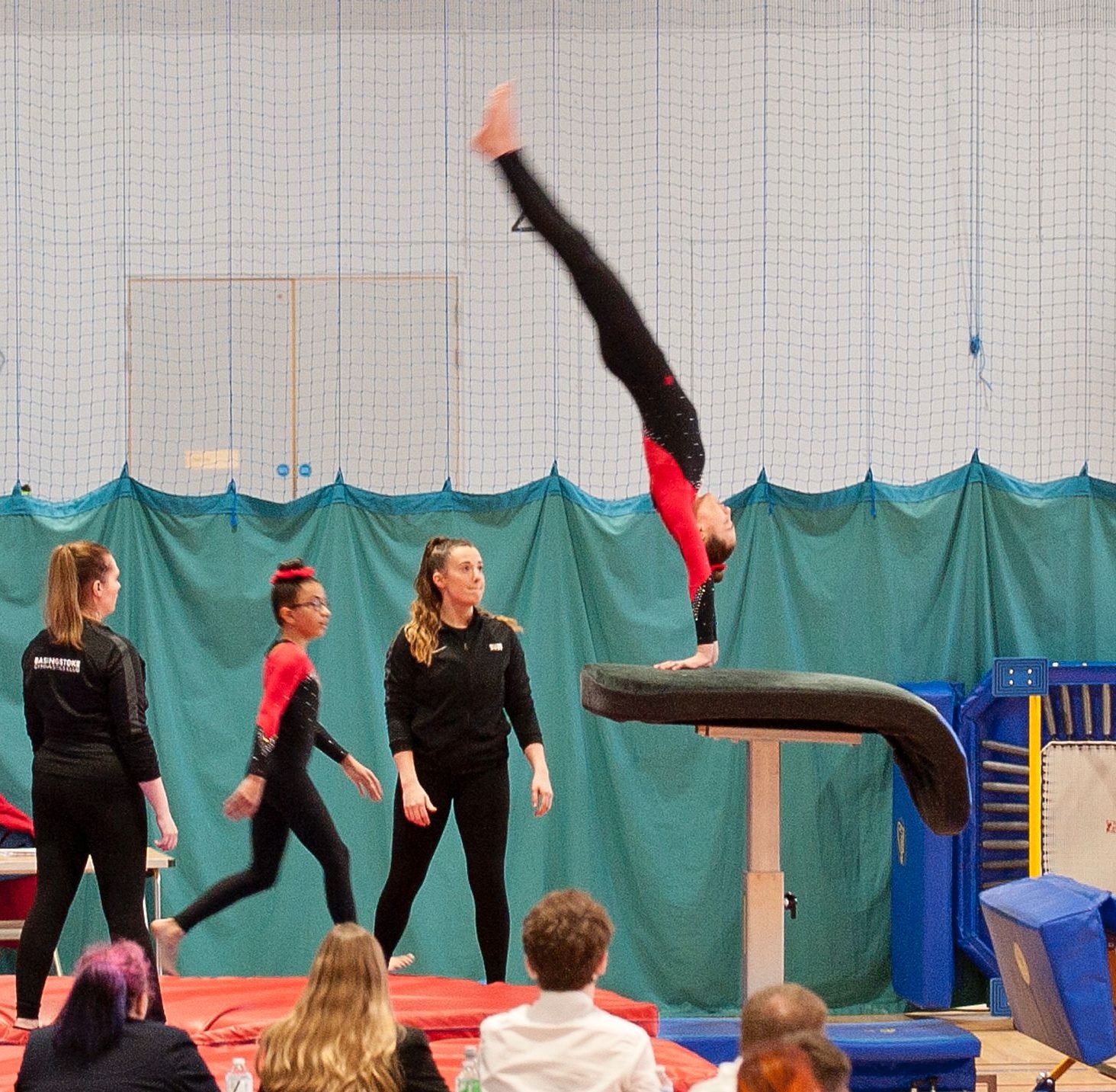 Trampette
Trampet programs are performed to music. Each team completes three consecutive rounds. During each round, six gymnasts perform one skill each. At least one round is performed using the vaulting table. The first round is usually the "team-round" where every gymnast competes the same skill. Each athlete closely follows the previous athlete without pause, making for a high-speed program. This is referred to as "streaming".
Tumble
Again, here there are three runs (rounds) involved. One of which has to include all six gymnasts doing a forwards series. Another run also has to include the gymnasts completing the same move. Each series must have at least three different acrobatic elements.