Basingstoke Gymnastic Club is devoted to providing opportunity to all levels, ages and abilities across the board which shines through our Elite Performance section of the club. Not only do we have the traditional Gymnastics for both men & women. Basingstoke Gymnastics offers a range of competitive disciplines for our advanced and talented athletes including Artistic Gymnastics (what you see in the Olympics), Tumbling, Aerobic Gymnastics & TeamGym. 
All gymnasts are different, whether a gymnast shows outstanding flexibility or huge amounts of power; we will ensure talent is not wasted. Please see below what we have to offer and what each discipline needs in order to produce our top elite performers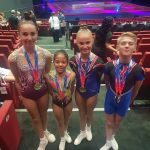 Aerobic Gymnastics is perhaps the most dynamic and energetic of all the gymnastic disciplines. Immediately recognisable for its high energy and heart pounding routines set to lively 'up-tempo' music, Aerobic Gymnastics is popular with both males and females and offers opportunities for participation as individuals, mixed pairs, trios and groups.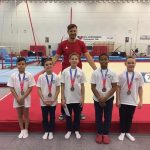 MEN'S ARTISTIC GYMNASTICS
Men's gymnastics is probably the most well known gymnastics discipline in the sport using 6 pieces of apparatus floor, pommel horse, rings, vault, parallel bars and high bar.  Men's gymnastics is an Olympic sport.  Our gymnasts compete at club, regional and national competitions all through the year.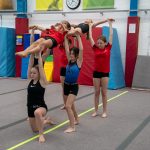 TeamGym has its roots in Scandinavia, where it has been a major gymnastics event for some 25 years, in the UK, it is still one of the newer gymnastic disciplines. TeamGym is a team discipline for clubs and consists of three sections: women, men and mixed teams. Teams should have a minimum of 6 gymnasts and a maximum of 12 gymnasts.
Tumbling is a characterised by the complex, swift and rhythmical succession of acrobatic bounding from hands to feet, feet to hands or even feet directly back onto feet. A tumbling pass may be over in a matter of seconds and is performed on a tumbling track that is 25 meters in length.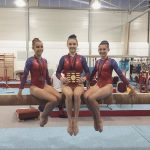 WOMEN'S ARTISTIC
GYMNASTICS
Women's Artistic gymnastics is a widely recognised discipline. The gymnast will work on 4 pieces of apparatus, vault, uneven bars, beam and floor and depending on the level the gymnast is working they will also work range and conditioning.  Our gymnasts compete at county, regional and national competitions throughout the year. 
Our amazing Head of Discipline Team. Leading the gymnasts and coaches. This highly qualified team bring a passionate and fun energy to the club and their teams. Constantly striving for excellence